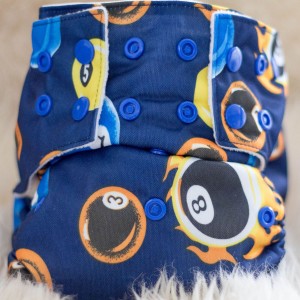 SNOOKER
ONE-SIZE DIAPER WITH TWO BAMBOO BLEND INSERTS
Shipping: FREE (via USPS)
Customer reviews:
Reviews (0)
Printer-friendly version
Inner Material
The inner material of our diaper is made of very soft micro-fleece fabric that quickly wicks moisture away from your baby's skin to reduce discomfort and diaper rash.
Outer Shell Material
Outer material is made of Polyurethane Laminate (P.U.L). This is the waterproof layer of the diaper.
Inserts
Each diaper comes with 2 bamboo blend inserts: 1 regular/large insert and 1 small/doubler.